Our Story
It was the year 2000. We were doing what we love, celebrating life, that is - at a private launch party for Margaritaville Tequila with entertainment by Club Trini and Jimmy Buffet. It was a fantastic night, as we were serenaded front and center by the legend, Jimmy Buffet himself, for two hours straight. It wasn't just the music or his magnetic aura that inspired us, but a message of bringing good into the world. On the drive home, we rallied to open our own Parrot Head Club chapter. Though our local area's population was less than 15,000, we were confident that we would recruit other members of our community. In a few short months we had over a hundred members and were able to say "Here We Are".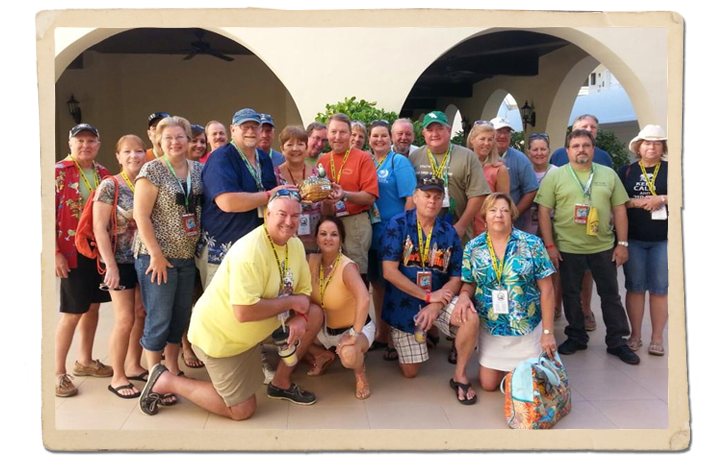 As our club steadily grows in numbers, our parties have also evolved to become more fabulous, delightful, plentiful and most importantly, purposeful to our many charitable causes. Some of the organizations we have been able to help with cash donations and volunteers include the local volunteer fire departments, area schools, the YMCA, the Cedar Creek Humane Society, the Cedar Creek Library, East Texas Crisis Center, local food banks and several more! We have also helped build houses for Habitat for Humanity.
In addition to monthly events, we host our annual Luau, Chili and BBQ Cook-off, and our Annual Poker Run. The Poker Run gets bigger and better each year and is open to the public – in 2019 we had over 1,000 participants and raised over $70,000 in one day for our charitable causes. On Sunday after the event we meet to compare notes and recap the event. There are always "Stories we Could Tell"!
In the years since we started the Club, it's been a nonstop party, bringing positive changes to our community on a daily basis and making members "Wonder Why We Ever Go Home." We are known as the "brightly clad folks" in our community that love to have a good time and love to help anyway we can. Our club was the proud recipient of the 2013 Golden Coconut Award! We started the club with a just few Parrot Heads and "Here We Are" 19 years later with over 500 members making us the 3rd largest club in the PHIP community and a profound sense of accomplishment. We have taken "Here We Are" to a whole new level and look forward to accomplishing even more!